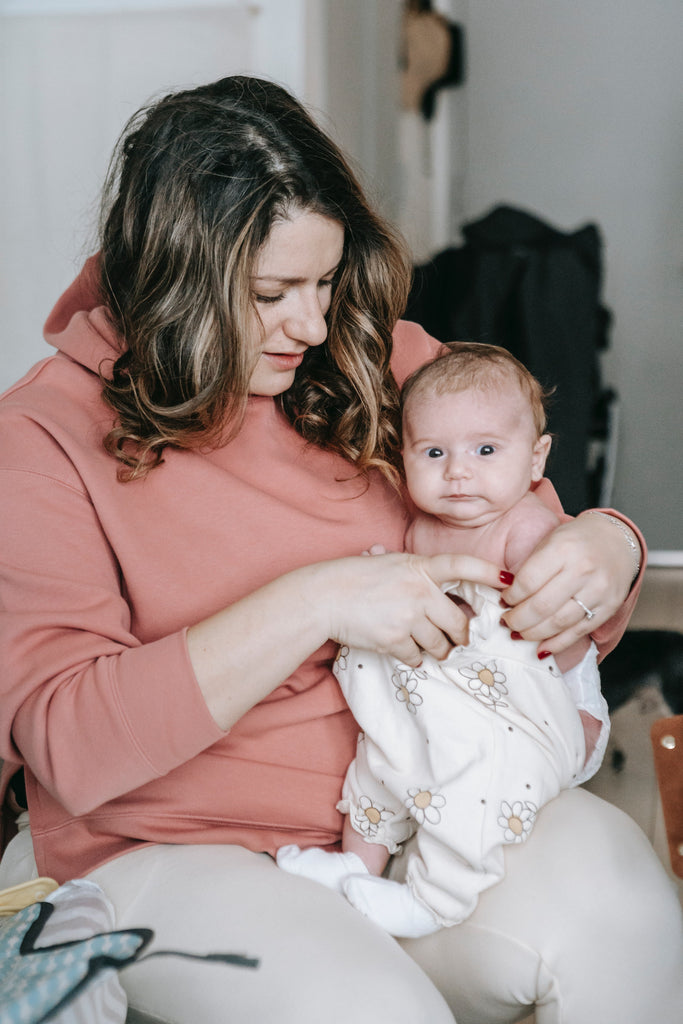 by Renz Paulo Rodriguez  |  March 06, 2023
Yes, it's baby eczema. It's awful to see your baby covered in patches of red and inflamed skin, isn't it? The sight is almost unbearable. You want to help them, but you're worried about irritating their delicate skin. You should be. You've been eyeing for baby eczema cream or a steroid cream, but ended up looking for alternatives. You've tried a dozen soaps, as well as home remedies that haven't worked. Now what? If you thought eczema was only something babies get, think again. Eczema can happen to anyone, and it can be painful and bothersome to those who suffer from it. 
Here are 4 basic things you should know about treating baby eczema:
#1. Clothes Matter
You'll want to pay attention to the fabrics you're putting on your baby, as they can make a big difference. Cotton and bamboo are both good options since they're natural fibers that absorb moisture well. If you're planning to use a dryer, be aware that harsh detergents can irritate sensitive skin even more, so it's best to look for wool detergent specifically designed for delicate clothing.
One important thing to keep in mind when washing clothes is that some eczema flares are triggered by common allergens or irritants on clothing and bedding (like dust mites). Ideally, if at all possible, you'll want to air dry your laundry on a line rather than using the dryer. But if you don't have access to an outdoor space where this is feasible, try drying everything on a low setting and make sure the laundry room is well-ventilated while the clothes are drying.
#2. No Dairy
Dairy products can be a source of aggravation. While cow's milk is the most common offender, goat and sheep's milk products are also big culprits. As with all food sensitivities, it's tough to know which items your kiddo will tolerate, so if you're breastfeeding, you may want to cut out any dairy from your diet for a few weeks and see if there's any improvement in your baby's skin symptoms.
If your baby is on formula, you may need to consider making the switch to one that contains substitutes for cow or other animal milk (like soy or hydrolyzed protein formulas). Luckily, there are lots of options out there these days!
#3. Nutrition
Your baby needs a lot of nutrition to grow, and they need a healthy diet while they're healing, so their bodies can develop and thrive. Unfortunately, many mothers who have never had a child with skin problems before may not be aware of how the two are related, or that their breast milk can transfer nutrients to the baby, which provides recovery from eczema.
The Mayo Clinic recommends foods rich in omega-3 fatty acids, such as flaxseed oil and fish oil, for easing symptoms of eczema. These foods provide anti-inflammatory properties that help alleviate itching and redness. However, if you're breastfeeding your infant, you should be aware that high-mercury fish like tuna can also pass through your breast milk to your baby.
Be sure to read labels on everything you feed yourself or give directly to your child while they're fighting eczema—including food packaging and ingredient lists on bottles of formula or baby food jars. Make sure there aren't any artificial sweeteners or chemical additives which could exacerbate the symptoms further!
#4. Baby Eczema Cream
Using eczema creams on a baby can help relieve symptoms. Baby Eczema Cream preferences will also depend on individual skin types. But one thing is for sure, adult eczema creams include chemicals not appropriate for baby skin.
Here at Elizabeth Parker Naturals, we have developed a solution to your baby's skin problem. Using only the best ingredients nature has to offer, our Organic Baby Eczema Cream contains the perfect combination of vitamins, minerals, trace minerals, and amino acids to give you and your baby's skin everything it needs to fully heal.
Medical-grade manuka honey, organic aloe vera, cocoa butter, shea butter, and some essential oils are just a sampling of the potent food-grade healing agents included in our formula. Choosing an eczema cream with a formulation specific for babies or infants can reduce the risk of reactions.
People don't talk enough about baby eczema, so here are some tips for coping with it.
#1. Don't use a normal moisturizer
Regular lotion contains alcohol and other chemicals that can make eczema worse, too. Use an ointment or cream moisturizer to keep your baby's skin moist, rather than a greasy feeling but not sticky like lotion does.  Elizabeth Parker Naturals' Cradle Cap Baby Balm is also an effective and excellent treatment for the baby's eczema. Made with natural and organic ingredients, it can be used from head to toe, smells gentle and light, and thoroughly absorbs into the skin. 
#3. Don't use normal body wash and shampoo
Even if you don't put any shampoo on his head, just the water running over his head may make his scalp itchy and dry enough to cause more eczema patches to appear there. Shampoos with fragrance or chemicals are even worse at drying out the skin.

Introducing our new 2 in 1 Organic Baby Shampoo and Body Wash. Using a gentle and innovative formula that contains soothing botanicals including aloe vera, calendula & chamomile extracts, our baby body wash cleanses & washes off dirt, germs & icky skin-cell residue to leave skin and hair clean, healthy & moisturized.  This responsibly sourced baby shampoo & organic body wash is specially designed for babies' sensitive or delicate skin.
If you're looking for high-quality skincare products, you can browse our beautiful collection now. We use natural and organic ingredients designed to calm, relax and protect your skin. Here at Elizabeth Parker Naturals, we work to produce the best skincare for you and for your baby.