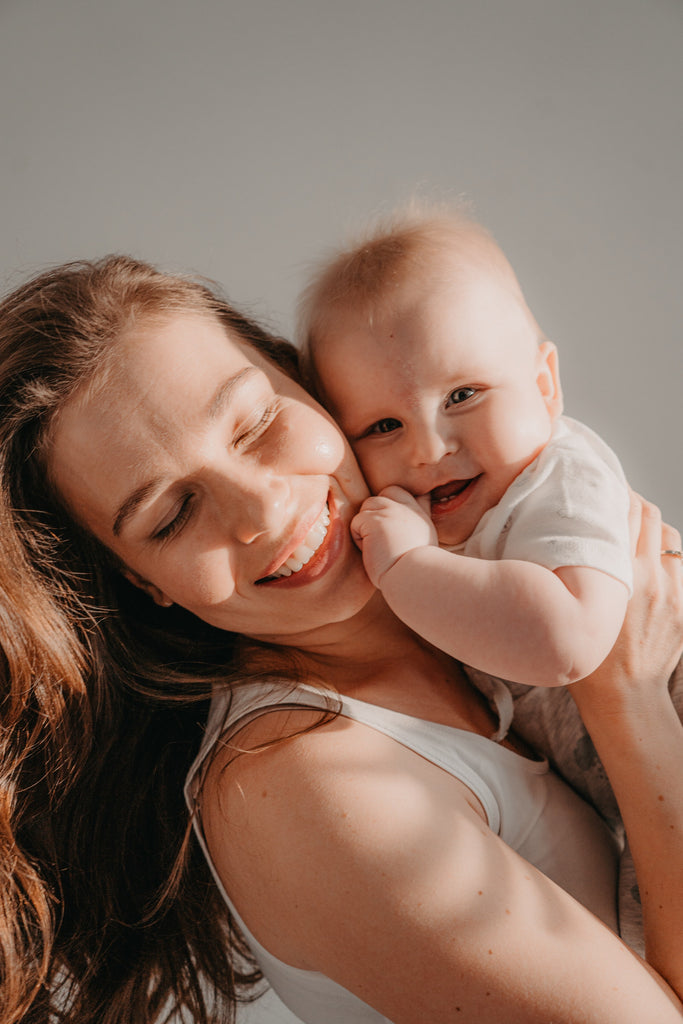 by Renz Paulo Rodriguez  |  June 05, 2023
Pregnancy can be a time of great change for your skin. While there's no way to predict how your skin will change during pregnancy, there are some common changes that many women experience—and yes, they are as diverse and unpredictable as the women who go through them. Hormonal changes during pregnancy can lead to a variety of skin conditions and issues, so it's important to know what you are up against. Take a look at several common skin problems associated with pregnancy, as well as ways to treat them safely and effectively.
1. Acne
Pregnancy hormones can cause breakouts in some women, even if they've never had acne before. Acne during pregnancy is usually not as severe as acne that you may have experienced as a teenager. It's also not as common either—about 20 percent of pregnant women report getting it at some point during their pregnancies. If you're dealing with pregnancy-related acne, there are things you can do to treat it and manage it. Over-the-counter products like salicylic acid and benzoyl peroxide have been shown to help prevent or clear up breakouts while they're being used. You can also try prescription treatment options like vitamin A derivatives such as Accutane; however, these medications come with side effects, so talk with your doctor first before starting any new treatment program.
2. Hyperpigmentation
Hyperpigmentation is the darkening of your skin. It usually occurs in areas that have been exposed to the sun, such as your face, hands, and arms. There are many causes of hyperpigmentation including age spots, acne scars, and melasma, a condition affecting pregnant women. Hyperpigmentation can also be due to a variety of factors including genetics and hormones. During pregnancy, you may experience increased melanin production which results in dark spots appearing on your body when exposed to sunlight or ultraviolet rays from artificial sources like tanning beds or lamps, but these spots will gradually fade away over time.
3. Spider Veins
Spider veins are tiny red or purple blood vessels that look like spider webs on the skin. They are caused by poor blood circulation, which can occur during pregnancy because of hormones and increased blood flow to your growing baby. You are more likely to get them if you have varicose veins or a family history of varicose veins. Spider veins aren't dangerous, but they can be a cosmetic concern. They may appear on the face around your eyes (a condition called telangiectasia), legs (varicosities), and torso (striae).
4. Scars
Scars are a natural part of the healing process. When your body experiences an injury or infection, it sends blood and fluids to the area to fight off the threat. This causes redness, swelling, and pain in that area. The scar tissue that forms is called collagen, which helps hold the skin together after an injury has healed. Scars also protect against bacteria entering open wounds because they're hard and inflexible compared with normal skin cells. However, there's no need to worry about your scar disappearing completely: most scars have their own unique appearance and texture as part of your body's natural healing process—and they can be treated with a variety of methods like laser therapy or surgery if they bother you too much!
5. Cellulite and Loose Skin on the Stomach, Thighs, and Buttocks
Cellulite is a normal part of pregnancy. This condition is caused by fat cells breaking apart and creating a dimpled appearance. Cellulite can be reduced by exercising, eating a healthy diet, and using cellulite creams that contain ingredients such as caffeine, retinol (vitamin A), Vitamin C, or moisturizing agents. Some creams are available over the counter while others need to be prescribed by your doctor.
6. Stretch Marks
Stretch marks are a kind of scarring on the skin that appears as thin, white lines and can be itchy. They are most commonly found on your hips, thighs, buttocks, and stomach area but can also occur on your breasts, upper arms, and even lower back. Stretch marks can also appear when someone experiences rapid growth in their body such as during pregnancy.
If you're worried about developing these nasty lines during or after pregnancy, there are plenty of things you can do to prevent them and minimize their appearance if they do appear. To start with, make sure that you're eating well throughout your pregnancy—this will help keep your skin healthy and provide essential nutrients for both mommy-to-be and baby-to-be! Next up,  don't forget about drinking lots of water because hydration is key, especially if an infant's sucking on one side all day long. Finally, don't be afraid to talk with other moms about how they handled their postpartum bodies because everyone's journey looks different!
Stretch marks are a normal part of pregnancy. If you'd like to try to prevent them, use a stretch mark prevention cream that contains rosehips, safflower, and shea butter!
Stretch marks aren't the same as scars, despite their appearance. They are not caused by damage to your skin, but rather by stretching too quickly. When you gain weight or experience skin stretching due to pregnancy, stretch marks may form. It is important to remember that they can be made worse by other skin damage, such as burns and cuts; therefore it is important to take care of your skin during and after pregnancy so that you don't worsen any existing stretch marks or create new ones.
Here at Elizabeth Parker Naturals, we have formulated an effective, all-natural, and non-greasy formula that locks in moisture and hydration, improves skin elasticity, and relieves itchy skin to help prevent stretch marks in early pregnancy. It is infused with natural and organic ingredients, making it safe for you and your baby.
Don't let unsightly scars stay with you for life after pregnancy! Our new Mommy Belly Butter Cream is specifically formulated to: 
Helps prevent stretch marks

Nourishes and hydrates skin

Soothes itchy, growing belly

Promotes skin elasticity 
Our best advice is to use powerful products and stimulating formulas including our Mommy Belly Butter Cream designed to calm, relax and protect the skin. Elizabeth Parker Naturals works to ensure that your skin gets the best care. Shop our collection now to protect and nourish your beautiful skin.
Gentle Reminder
Most of these skin conditions during pregnancy either disappear on their own or can be treated with over-the-counter products and by improving your hygiene routine. However, if you notice any new symptoms, have a talk with your doctor. If you're having chronic hives or find that you are losing more than the recommended amount of hair after delivery, these could be signs of serious underlying health problems.