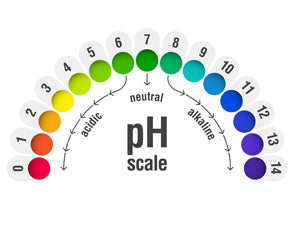 The pH of your favorite cleanser, toner, or moisturizer may be affecting your skin. PH, also known as potential of hydrogen, can measure how acidic or alkaline the body is, which can dramatically change the function of the skin. Women, mothers, and their children are using products without noticing the harmful effects that can change their lives in the long run.
 We think it's time for a change, especially when it comes to balancing your body's pH level, and we're ready to guide you through it!
 Here's what you need to know:
Our Natural pH
Our skin is an incredibly delicate organ, which should always be treated with special care. This is why it's important to note that an adult's normal pH level is usually a 5.5, while a baby's begins at 7. Like every other organ in the body, your skin will function best in its ideal environment and optimal pH level. Especially when it comes to your newborn and infant, it's significant to keep the skin at a balanced level as it will help prevent irritation and other skin conditions, while still in early development.
Just like coffee, our skin tends to be acidic. From a scale of 1 to 14, anything below a pH level of 7 is considered acidic, and anything above as alkaline. Soaps, toners, and even moisturizers can all affect the skin's natural pH level if they are not pH-balanced. The good news is that we have something called an "acidic mantle" which works to protect the skin from harmful bacteria with its acidic properties.
Certain ingredients found in skincare products such as alcohol may cause the skin to dry out and lose its pH balance. It's critical to note these pH-disturbing ingredients and to look for labels like, "pH-balanced". Considering you are also making a choice for your little ones, it's important to be extra cautious when choosing baby products such as body wash or moisturizers.
 Maintaining Optimal pH Levels
 While your acid mantle is a wonderful way to stay protected, some external and internal factors can disturb the peace. Once the pH-level gets thrown off, skin conditions like Eczema and Rosacea take place. The safest way to keep an eye out is by making sure your products are pH-balanced and trust-worthy.
 Other great alternatives to fighting pH imbalances are eating the proper foods. Most vegetables like avocado, celery, and cucumber are all great alkaline foods to help balance an overly acidic pH. Other highly alkaline foods include raw almonds, broccoli, and kale. If you're looking for the easiest way out, drinking alkaline water may be effective.
 What Makes Skin Products pH-Balanced?
 As we continue to age, the amount of oil or sebum naturally secreted by the skin eventually decreases. This influences the acid mantle and its ability to fully protect the skin. This is why using effective pH-balanced moisturizers is everything.
 The best skin care products that will help keep your acid mantle functioning properly are the quality and ingredients of the formula. Oils that work surprisingly well with the skin's natural secretions include jojoba, argan, coconut and olive. Hemp seed oil and plumeria extract are also great nutrients that can be found in pH-balanced products.
 The good news is that you don't have to do long research to find products that work for you. Elizabeth Parker Naturals has done the work for you. With all their products being pH-balanced, your skincare shopping just got a whole lot easier.
 Have a baby at home? Not a problem. Elizabeth Parker Naturals' pH-balanced baby products are the perfect combination of soothing and protective. Don't wait to take care of your skin, start browsing our collection today.