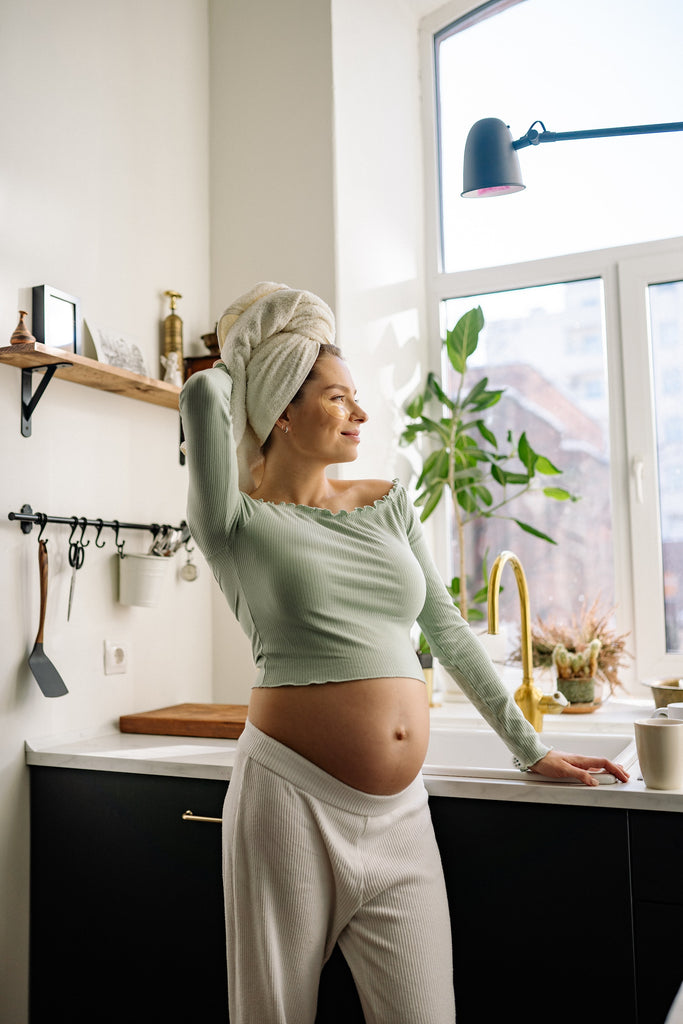 by Renz Paulo Rodriguez  |  April 03, 2023
Each pregnancy is different for every woman, but one common trait most women share is that their bodies change and adapt to house another life. While this experience is an amazing journey for every woman, physical changes can leave you feeling uncomfortable in your own skin. One of these changes is stretch marks, which are caused by rapid weight gain over a short period of time. 
What Are Stretch Marks And How Do They Form?
 According to Dr. Latanya Benjamin, a double board-certified dermatologist and a fellow of the American Academy of Dermatology and fellow of the American Academy of Pediatrics, stretch marks are basically small scars located in the middle layer of your skin (dermis) that are visible in the top layer of skin (epidermis). They form when rapid weight gain or hormonal changes stretch the skin beyond its ability to repair itself. That's why they're called stretch marks.
Your skin has an amazing ability to stretch and adapt thanks to its collagen and elastin fibers. But when your skin stretches too fast or too far, it can tear slightly. When this happens, your body will immediately start working to heal the new scars. Despite our body's natural defense mechanisms, small scars can still show up once everything is healed. Any sort of quick weight gain (pregnancy or not) or rapid growth spurt (think teenagers!) can lead to stretch marks, which means stretch marks aren't just for pregnant women.
Stretch marks are most often associated with pregnancy because pregnancy hormones, like cortisol and estrogen, reduce the activity and effectiveness of the fibroblasts in your skin. This, in turn, reduces the collagen and elastin that give your skin its stretchiness. Couple that with your growing belly, thighs, and chest, and conditions are just right for stretch marks to form.
Every woman's body and every pregnancy is different, but if you do develop stretch marks, you'll probably start noticing them at the end of the second trimester or sometime during the third trimester. They usually form on a pregnant mom's stomach, thighs, bottom, hips, and chest. As much as we would like to avoid them altogether, unfortunately avoiding stretch marks during pregnancy isn't possible, however, there are ways to reduce the appearance of stretch marks while pregnant. Here are some tips:
#1. Apply A Stretch Marks Cream Or Oil
It's important to use a product that contains ingredients that help moisturize your skin, as this will help reduce the appearance of stretch marks. Maintaining healthy skin during pregnancy is crucial in order to prevent stretch marks from appearing. If you want to keep them at bay and ensure they do not appear until after delivery, applying a stretch mark cream or oil twice daily is an easy way to do so!
As far as what type of product you should use, it's all about personal preference: some women prefer creams while others prefer lotions; some like serums while others prefer oils. If you have any allergies or sensitivities to certain ingredients in certain products (like parabens), be sure to check labels carefully before making a purchase!
Here at Elizabeth Parker Naturals, we have formulated an effective, all-natural, and non-greasy formula that locks in moisture and hydration, improves skin elasticity, and relieves itchy skin to help prevent stretch marks in early pregnancy. 
Don't let unsightly scars stay with you for life after pregnancy! Our new Mommy Belly Butter Cream is infused with natural and organic ingredients, making it safe for you and your baby, and is specifically formulated to: 
Helps prevent stretch marks

Nourishes and hydrates skin

Soothes itchy, growing belly

Promotes skin elasticity 
#2. Eat A Healthy Diet
Eating a healthy, balanced diet can help reduce the appearance of stretch marks. Eating more iron-rich foods (like spinach), calcium-rich foods (like milk) and vitamin C-rich foods (like citrus fruits) can help your skin retain its elasticity. Vitamin E may also help with preventing stretch marks during pregnancy by providing protection from free radicals that cause oxidative damage. And finally, eating more vitamin A and B can also protect against skin damage from inflammation by acting as antioxidants in your body.
#3. Drink Plenty Of Water
Drink plenty of water as it helps in keeping your body hydrated. Drinking at least 6-8 glasses of water a day is recommended. Water should be consumed with every meal and before, during, and after exercise or any physical activity. You should also drink water before going to bed and after getting out of the shower or bathtub as well.
This is because when you sweat from exercising or being in hot weather conditions, you lose substantial amounts of fluids from your body which need to be replaced immediately by drinking lots of liquids such as water so that your body does not get dehydrated due to excessive sweating during workouts or other activities such as gardening outside where there isn't much shade available for protection against direct sunlight rays hitting us directly on our skin surface areas (upper arms/legs/stomach area).
#4. Exfoliate Stretch Mark-Prone Areas Once A Week
Exfoliating once a week is an easy way to banish the appearance of stretch marks. It's also important to note that not all exfoliants are created equal. You should choose a gentle cream or gel formulated with ingredients like glycolic acid or lactic acid, which can help slough away dead skin cells and promote healthy cell turnover.
Exfoliation does not involve using rough scrubs on your skin; instead, you want to use loofahs or body brushes (or both) to gently scrub off dead layers of skin. If you have sensitive skin, opt for an exfoliating scrub instead of a loofah or body brush because it will be gentler on your skin while still removing those pesky dead cells!
#5. Massage Your Skin 
You should massage your skin once a day, preferably in the morning. There are several ways you can do this: (1) Use a loofah or washcloth to gently scrub your body from top to bottom, using circular motions. Focus on areas where you have stretch marks, but don't be too rough—it's best not to use any pressure at all when massaging skin that is still healing. (2) Apply coconut oil or aloe vera gel onto dry areas of your body and then massage that area for about 10 minutes until it absorbs into the skin (or use lavender oil as an alternative). You can also rub moisturizer into your skin after washing up with soap and water if you think it might help prevent any irritation from occurring while massaging with oils or gels instead!
Takeaway
Stretch marks are a common occurrence during pregnancy, but you can take steps to reduce their appearance. The most important thing is to make sure they don't cause you any discomfort or pain. Stretch marks are really just scars that can fade over time, so if you're worried about them, talk with your doctor about getting them removed through laser treatments or surgery. You should also consider talking to a therapist about how stretch marks may be affecting your life.
Our best advice is to use powerful products and stimulating formulas including our Mommy Belly Butter Cream designed to calm, relax and protect the skin. Elizabeth Parker Naturals works to ensure that your skin gets the best care. Shop our collection now to protect and nourish your beautiful skin.