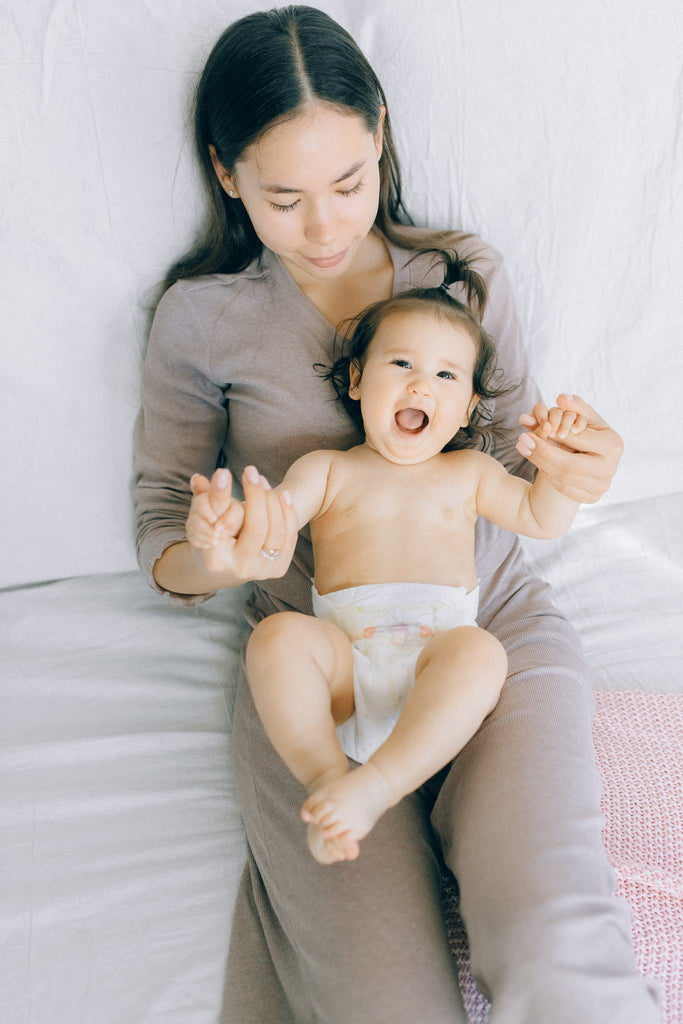 by Renz Paulo Rodriguez   |   7 min read
#1. What is diaper rash?
Baby diaper rash is the most common type of rash among infants and young children. It can happen anywhere on the baby's skin, but it's most commonly found bottom, groin area,  thighs, and diaper area, which is why it's often called "diaper rash." The rash is caused by an irritant or foreign matter on the skin rubbing against the baby's delicate inner skin.
#2. What causes diaper rash?
According to Mayo Clinic, diaper rash may be caused by the following: 
Leaving on wet or soiled diapers for too long. The tender skin of babies can develop a rash if wet or soiled diapers are left on too long. Babies may be more prone to diaper rash if they're experiencing frequent bowel movements or diarrhea.
Chafing or rubbing. Tight-fitting diapers or clothing that rubs against the skin can lead to a rash.
Using a new product. Your baby's skin may react to a new brand of baby wipes, diapers, or a detergent, bleach, or fabric softener used to launder cloth diapers. Ingredients in lotions, powders, and oils might add to the problem.
Developing a bacterial or yeast (fungal) infection. What begins as a simple infection may spread to the surrounding skin. The area covered by a diaper is at risk because it's warm and moist, making a perfect breeding ground for bacteria and yeast. These rashes can be found within the creases of the skin. And you might notice red dots scattered around the creases.
Introducing new foods. As babies start to eat solid foods, the content of their stool changes. This increases the likelihood of diaper rash. Changes in your baby's diet can also increase the frequency of stools, which can lead to diaper rash. Breastfed babies might develop diaper rash in response to something the mother has eaten.
Having sensitive skin. Babies with skin conditions, such as atopic dermatitis (eczema) or seborrheic dermatitis, may be more likely to develop diaper rash. The irritated skin of atopic dermatitis is usually in areas not covered by a diaper.
Using antibiotics. Antibiotics can contribute to a rash by killing bacteria that keep yeast growth in check. Antibiotic use also increases the risk of diarrhea. Breastfed babies whose mothers take antibiotics are also at increased risk of diaper rash.
#3. What are the symptoms of diaper rash?
According to Cincinnati Children's Hospital, diaper rash causes the skin to look red and irritated. Affected skin may also feel warm to the touch. Parents and caregivers should call a doctor if a bright red diaper rash lasts longer than 48 hours or is accompanied by a strong odor of urine, which may indicate dehydration. Mayo Clinic says that the other times to seek medical help include when rashes form blisters or become weepy, or if the baby develops a fever. 
#4. When should I call my doctor about the diaper rash?
If your baby's diaper rash is accompanied by the following, you should call your doctor. 
A rash with a fever

A rash that's severe or unusual

A rash that persists or gets worse despite home treatment

A rash that bleeds, itches, or oozes

A rash that causes burning or pain when your baby urinates or has a bowel movement
Talk to your doctor if the condition of your baby's skin doesn't improve after a few days of at-home treatment. Diaper rash may require prescription medication, or it could have another cause, such as a nutritional deficiency in zinc. The rash can also be a sign of an infection.
#5. Is it normal for the baby's diaper area to be sore?
Yes, it is normal for the baby's diaper area to be sore. The skin is sensitive and can be irritated by urine and stool. It can become red, inflamed, or raw due to these reactions. In some cases, babies may experience a small amount of bleeding from their bottom after they poop or pee in their diapers. This is most common during the first year of life because babies have not yet developed protective mucus membranes on their bottoms, so they tend to get more pain than adults do when using diapers for an extended period of time.
#6. How do I treat diaper rash?
The best way to treat diaper rash is to prevent it. According to Discovery Point Child Development Centers, the following are some tips on how to prevent diaper rash. 
Do immediate and frequent diaper changes.

Changing your baby's diaper right after it's been soiled is key to diaper rash prevention. Otherwise, the skin will be exposed to moisture and enzymes that can increase the likelihood of a nasty rash. Even if your baby appears comfortable and unbothered by a freshly soiled diaper, it's important to take the initiative in keeping that bottom clean and dry, especially if they are prone to diaper rash or recovering from one.
Air dry when possible.

Providing your baby's skin with plenty of time to dry out before putting another diaper on keeps the moisture from the previous diaper from transferring over. Just be sure to put down a towel or other absorbent material to avoid any accidents from happening in the meantime. Of course, you might not have time to spare in between every diaper change—that's when a quick fan-dry can come in handy.
Go diaper-free.

Allowing your baby to go without diapers for a few hours each day provides constantly-diapered skin time to breathe and heal. It can be incredibly effective at reducing irritation. Placing your baby on a few diapering clothes or blankets can reduce any messes. This is a time-trusted technique when a baby can't seem to break the cycle of getting and healing from a diaper rash. 
Avoid super-snug diapers.

While you don't want any leaks to occur from wrapping your baby's diaper too loosely, you also don't want it to be so snug that rubbing and chafing become inevitable. If you find that your diapers always seem to be on the small side, it's probably time to go up a size.
Opt for irritant-free products.

Perfumed detergents, scented baby wipes, and alcohol in soaps can make the baby's skin unhappy and worsen areas of irritation. Instead of using wipes during the newborn stage, try a washcloth soaked in warm water to soothe sensitive skin. If it appears that your baby is particularly prone to developing rashes, you may want to try using only water for a period of time to see if soap-based products have been causing the irritation.
Use a protective ointment.

At every diaper change, apply a zinc oxide or petroleum jelly ointment as a barrier to the skin. A thick layer of ointment helps prevent moisture from making its way to the skin and thus works to heal irritation. Just be sure that no moisture is present before applying the ointment—otherwise, you may be trapping it next to their skin.
Diaper rashes are common, but with proper care, they can be treated and prevented.
Elizabeth Parker Naturals' mission is to create products that are safe for babies' sensitive skin. We believe in the power of nature and want to celebrate it. We've worked hard to create an all-natural line of products that are safe for your baby's skin—and yours too! 
Our products are fragrance-free, sulfate-free, and hypoallergenic. They're also infused with soothing properties derived from plants and essential oils. We love our job so much that we want it to feel like a gift from the world—an opportunity to make something beautiful out of what is already beautiful in this world (and in us!). 
The following are some of our gentle yet effective products that will help you treat and prevent your baby's diaper rash. These products are 100% made in the USA, responsibly sourced, and free of cruelty, sulfates, parabens, toxins, artificial fragrances, and other potentially harmful chemicals.
1. Organic Calendula Baby Rash Cream
Calm and nourish your baby's sensitive skin with our Organic Calendula Baby Rash Cream. Calendula Baby Body Cream is specially formulated to relieve severely dry, irritated skin, baby rashes, diaper rash, chapped lips, and cradle cap. This baby skin care product quickly creates a protective barrier for every type of baby's delicate skin. Its non-greasy, organic baby formula absorbs quickly with no oily residue left behind.
This safe and gentle baby skincare cream is made with organic coconut oil, beeswax, calendula oil, and other skin-loving botanicals to soothe your baby's delicate skin. This diaper rash cream is packed with nature's best for your baby's sensitive skin and is not only great for cradle cap and diaper rash but also effective for any other cuts, burns, baby acne, or scrapes that might come up, ensuring that your baby is getting what they need to stay happy and healthy. For more information, click here.
2. Atopic Dermatitis Moisturizing Cream 
This Atopic Dermatitis face moisturizer & pain relief cream soothes & relieves signs & symptoms of atopic & seborrheic dermatitis, including redness, itchiness, swelling & flaking of the skin. Our moisturizing body cream deeply penetrates extra dry skin. Infused with nature's finest ingredients, including Coconut Oil, Aloe Vera, Olive Oil, Plumeria Extract & Hempseed Oil, this eczema cream & body moisturizer hydrates & moisturizes dry & damaged skin while strengthening the skin's protective barrier.
Our anti-itch cream also works with a wide array of skin conditions including, diaper rash, cradle cap, rashes, sunburns, scrapes, bruises, psoriasis, rosacea, burns & more. This itch relief cream contains vitamins, minerals & amino acids that your skin requires to recover. Elizabeth Parker Natural's moisturizing & hydrating face & body cream provides ultimate relief from dermatitis while providing deep & long-lasting hydration. No more itching, redness, swelling & flaking, only clearer, healthier & more supple skin! For more information, click here.
3. Baby Eczema Cream
Relieve your baby from pain & skin irritation with Elizabeth Parker Naturals' Baby Eczema Cream. Using an innovative formula, this face moisturizer & body cream gives your baby a fast & long-lasting relief, making them enjoy a smooth & itch-free feeling. Infused with natural & organic ingredients that contain vitamins, minerals & nutrients, including Aloe Vera, Olive Oil, Manuka Honey, Shea Butter & Coconut Oil, our anti-itch & eczema cream for babies is made safe & pure for your baby's delicate skin.
Unlike ordinary facial skin care products & baby essentials, our face & body lotion for eczema also soothes & relieves a wide array of skin conditions, including dry skin, diaper rash, dermatitis, cradle cap, psoriasis, burns, scrapes, bug bites, scars, sunburns & more. With Elizabeth Parker Naturals' Baby Eczema Cream, you'll say goodbye to a bad night's sleep & welcome a more comfortable, peaceful & better night's rest for you & your baby. No more scratching, crying, or screaming! For more information, click here.
Gentle Reminder
As you can see, baby's diaper rash is very common and there are many different reasons why this happens. However, in most cases, a baby's rash does not need to be an issue for parents. With that being said, if you have concerns about your child's rash or other symptoms such as itching or redness that could indicate an infection, then it is important to contact your doctor immediately so they can rule out any serious medical conditions before starting treatment on their own.
References:
Discovery Point. Discovery Point. Published March 10, 2020. https://www.discoverypoint.com/blog/diapering-basics-and-tips-for-preventing-diaper-rash/ 
Diaper rash - Symptoms and causes. Mayo Clinic. Published 2022. https://www.mayoclinic.org/diseases-conditions/diaper-rash/symptoms-causes/syc-20371636 
Heitz D. Diaper Rash. Healthline. Published February 27, 2020. https://www.healthline.com/health/diaper-rash#RiskFactors