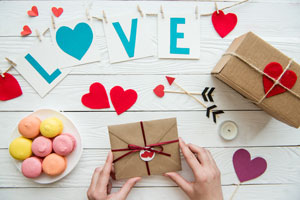 It happens every year. We're constantly thinking of what special gift would be perfect for our loved ones, and even for ourselves. Whether it's a box of chocolates, a bouquet of flowers, or even a poem, every year we try to make it even more special. But this year, make it a little different.
Better than flowers or chocolates, are the gifts you can give to your skin. Here are some unique gifts you can go for:
Organic Hand Cream
Let's be honest, we're all guilty of not moisturizing our hands enough. From dishwashing to cooking, our hands are always working hard. Give them a little break by going for Elizabeth Parker Naturals' organic hand cream that will instantly help increase skin elasticity and deeply moisturize the skin.
Whether you're trying to even out your skin tone or find a way to fight aging skin, this hand repair cream does it all. The best gift you can ever give yourself or your loved one is a way to feel more youthful and replenished after a long day, and there's no better way to do it!
Exfoliation
Though moisturizing is one of the most important steps to healthier skin, exfoliation is just as vital. If you have oily skin, for example, exfoliating would help clear your pores of excess buildup, and exfoliating dry skin would help rid of the flaky old skin cells. But more than that, exfoliation helps keep your skin looking more hydrated, less dull and looking more youthful.
When it comes to choosing the right product for your exfoliation routine, it's important that they are pH-balanced, and do not include damaging ingredients such as fragrances, sulfates or parabens.
Elizabeth Parker Naturals' Ichthyosis Exfoliating Wash contains Cehami Botanical and Manuka honey to help heal damaged skin, and reduce any forms of inflammation. With a pH-balance of 4.5, it helps dissolve dead skin and ensures that its tiny exfoliants gently remove any scales. That's what we can a real exfoliator.
Foot Cream 
Though getting pedicures is definitely helpful when it comes to taking care of your feet, they're not the only thing you need. It's important to note that we are constantly walking, or slipping our feet into not-so-comfortable shoes. Over time, our feet end up becoming drier, cracked and sometimes even inflamed.
The main issue with most foot creams is that they tend to be greasy and difficult to use right before slipping into shoes. They can cause walking to feel slippery and uncomfortable. This is why Elizabeth Parker Naturals' non-greasy organic foot cream is your new go-to.
With incredibly soothing ingredients like aloe vera, coconut oil, shea butter, and blue-green algae, this moisturizer is bound to give you results sooner than later. This organic foot cream is specifically designed to deliver all the right nutrients for your skin to heal properly and rejuvenate in just the right amount of time.
If you're thinking that a body cream may just not be enough of a passionate gift, it's time to get creative. You can give your loved one a body massage and simply use the new moisturizers to do it!
Whether it's a foot rub, a mini hand massage or a full body combo, using the soothing and high-quality properties added in all of Elizabeth Parker Naturals' organic products is the ultimate game-changer.
Side note: we run out fast! Browse our products today to get started.