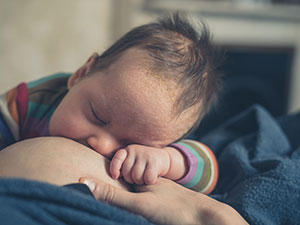 Cradle cap, also known as crib cap, comes from a minor version of seborrhea dermatitis, which essentially causes dandruff in adults. In babies, however, it can come in the form of very thick and flaky skin on a baby's scalp. While typically harmless, many mothers seek treatments as this thick coating can be visible for up to a year, and in some cases cause the loss of hair.
If your baby has cradle cap, here are some effective ways you can naturally treat it:
Brushing the Scalp
Lightly and smoothly brushing your baby's scalp is perhaps the most crucial step. Gently brushing some flakes off the head can be very effective in its overall removal. There are particular brushes, specifically designed for cradle cap, that can ensure a more soothing and pleasing experience. Sometimes, even at the hospital, they will provide you with a brush post-delivery. If you have a clean brush with gentle bristles, this can definitely work, too.
Begin the process by moving in one direction, and slowly brushing the relevant area of the scalp. Continue brushing over the hair, to remove the flakes from each strand. You can follow these steps after a baby's shower, on wet hair, or even dry hair.
Most importantly, make sure to keep following this process on a daily basis, and to be careful of any irritation or redness. If this occurs, brush less often and try to be as gentle as possible.
Hydration
To ensure loose flakes, it is best to keep the scalp hydrated. Anything natural and soothing like olive, coconut or jojoba oil can do the trick. However, if you really want something effective and gentle for your baby, Elizabeth Parker Naturals' Cradle Cap Healing Balm is specifically formulated for this skin condition. Made with powerful properties such as calendula oil, this healing balm is an excellent choice for hydration and protection of your baby's skin.
Simply apply the balm to the scalp, and gently massage the entire affected area. You can do this once a day to ensure great results and to hydrate and care for the skin at all times.
Humidifier
Babies who have cradle cap frequently have dry or sensitive skin as a general rule. In order to help with this type of skin, using a humidifier in your baby's room can provide a lot more moisture in the air, which can help compensate for the skin dryness.
Air conditioning and heating systems, for example, can be very drying for the skin, and ensuring there is some moisture in the air can be super beneficial for you and your baby. Having a humidifier is a must on your baby registry!
It's not a fun time when it comes to taking care of your baby's cradle cap, but it can definitely make things easier when you know what works. Applying Elizabeth Parker Naturals' Cradle Cap Healing Balm along with proper brushing and hydration can really make all the difference. Make sure you stay persistent and that you try to follow the same procedure every day for the best results.
If you're looking for more great all-natural products for your baby's skincare, Elizabeth Parker Naturals has it all. We sell out fast, shop now to get started!