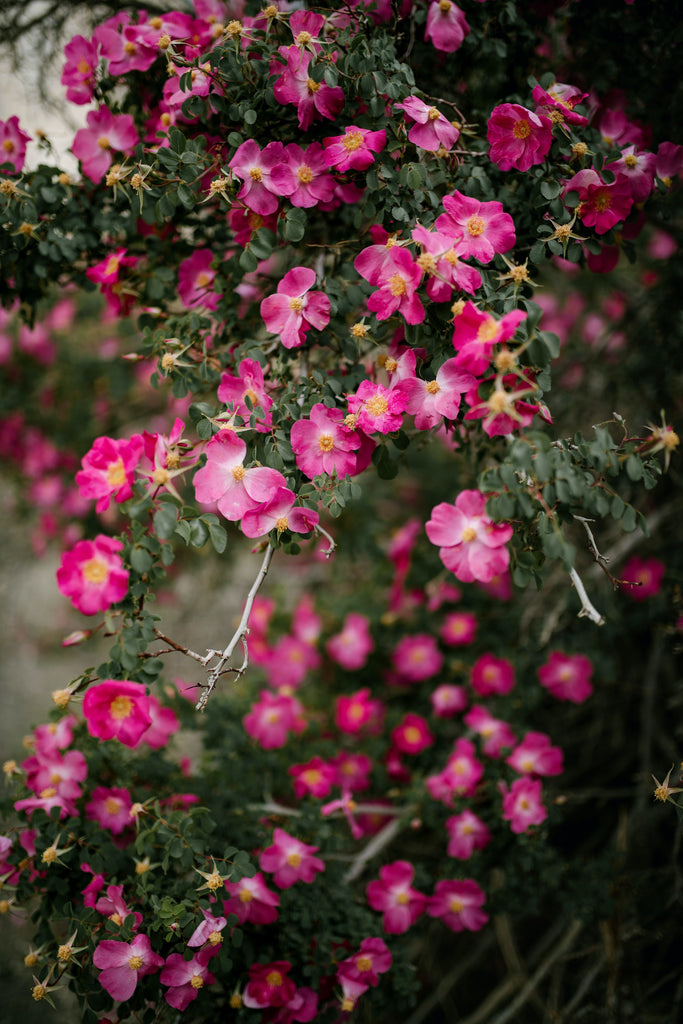 There is much to be said about the Rose, its fragrance, color, and the like. Of late, there is much study being done about the benefits of Rose stem cells, and their ability to aid the production of new cells in the skin, thus reducing signs of aging, and enhancing the elasticity of the skin. It has also been suggested, that the rose stem cell can regenerate female comfort and heal eroded tissue which causes pain during intimacy. The studies show that the Rose stem cells also allow the body to create much-needed hormones in an aging woman.
The Alpine Rose
I want to introduce to you a beautiful pink flowering plant, the Alpine Rose, that can be found high up in the Swiss Alps. It grows –and thrives– in an incredibly harsh environment consisting of high-altitude dryness and freezing temperatures.
How does the Alpine Rose endure such environmental stressors?
Its resilience and regenerative characteristics help the rose to thrive.  Scientists have learned how these characteristics can also help support more youthful skin. The Alpine Rose contains stem cells that protect it against dehydration as well as the attack of radicals and pathogens.
These stem cells have amazing regenerative attributes, enabling the plant to produce new cells continuously throughout its lifetime, potentially living up to 100 years. This characteristic of the Alpine Rose stem cells is referred to as "totipotent." Medical Definition of totipotent: capable of developing into a complete organism or differentiating into any of its cells or tissues.
Along with this vital characteristic, the Alpine Rose plant also contains high amounts of polyphenolic compounds (which protect the plant against radicals, as well as viruses and bacteria), taxifolin, antioxidants, and antiviral compounds; and are also optimized to sustain in a very dry environment.
The plant has adapted to its environment by developing scales on its leaves to limit water loss, as well as developing the ability to synthesize protective proteins which behave as tiny sponges, retaining water around the cell men.
The Alpine Rose stem cells can survive the frost and dehydrating conditions of dry air and cold. And this protection appears to support more than the plant itself, as studies have shown the same stem cells can offer protection to human skin as well.
In vitro and in vivo studies, the stem cells were shown to reduce the formation of carboxylated proteins. These proteins are a marker of skin aging. The stem cells were also shown to protect the skin against herpes occurrence due to their strong antiviral effect.In addition to the incredible Rose stem cells, we also used Super Peptides, it's a double whammy for aging skin.
The Alpine Rose stem cells protected against damage induced by oxidative stress as well as defending against pathogens!
And in another study, Alpine Rose stem cells were again shown to have a protective effect on human skin, as they did within the plant.
Our skin's epidermal cells are responsible for skin cell replenishment, and this process slows down as we age, taking 50% longer for replenishment to occur. This study demonstrated that one key measure of renewal, the ability for the cells to form colonies, increased as much as 75% when penetrated with a 0.15% Alpine Rose stem cell extract. Stem cells were better able to counter environmental stress and retain skin cell vibrancy.
The Eco cert (Organic certification) standard for cosmetics requires a minimum of 95% of the formula be plant-based ingredients and a minimum of 10% of ingredients come from organic farming.
And please note: the stem cell extract used in our products are not from human tissue of any kind (people do sometimes ask!). Plant stem cells are harvested from sustainably grown cultivation and are not detrimental to the host plants or the environment.
Because only the smallest amount of tissue is taken from the host plants but reaps unlimited cells from the one culture, the host plants do not need to be mass-produced. There is no mass-planting requirement, so water use is minimal as it lands requirement and disruption to the environment.
Who should use skin-care products with peptides?
You probably haven't met anyone who doesn't want smoother, firmer skin. So really, anyone can benefit from using them, even as a preventative measure. And here's the biggest pro when it comes to peptides: Pretty much anyone and everyone can use them. Unlike many other collagen-boosting ingredients-retinoids, even vitamin C-which can often have irritating side effects, peptides are generally fairly well tolerated by everyone, notes Dr. Bhanusali. While you should always check with your ob-gyn, they're typically okay to use during pregnancy, too. (Related: Safe Skin-Care Products for Pregnant Women)
Here's how to choose the right peptide skin-care product.
This can get tricky because peptides are one ingredient and it can be tough to determine what you're actually getting. "Given that you can call any short chain of amino acids a 'peptide,' many of the products out there tend to be more about marketing hype than actual efficacy," says Dr. Bhanusali.