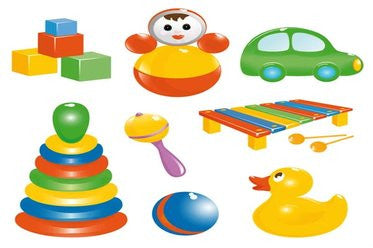 Whittling down the list of gifts for new parents is hard because they could really use so much. Here are some of the best gifts that every new parent can put to use immediately to have a better time and be more effective.
Dads sometimes have a tougher time making the transition into fatherhood, and need a bit more advice. This kit includes everything they need to be a rock star when it comes to daddy duties and makes sure that they always know what their role is.   $40.00
When you need baby's temperature one of the easiest ways to get it is to simply pop this pacifier into their mouth. Considering your other options this seems like this cleanest and most trouble-free way for everyone involved. $7.99
Once they're old enough for solid foods and silverware they can start out with this specially designed plate with construction vehicle fork, spoon, and knife. They'll have fun eating and can move their food into place with the silverware.  -  $18.00
 Luvable Friends Flannel Receiving Blankets
Baby has to have something comfy to get all wrapped up in, whether the little love bundle is at home or at the hospital. Every new mom needs blankets galore. Choose a special one for the hospital or plain ones to keep at home. The softer and cuddlier, the better.  -  $9.89
Wait a minute—you're actually letting us leave with this human? Nine out of ten new parents have this thought when they leave the hospital, and the drive home is often when reality sinks in for the parents. No doctors, no nurses, just you and that baby. Make sure they're ready with a top-quality car seat.  -  $209.99
These are specially designed covers to make sure that you don't get caught in the line of fire during a diaper change. They are washable and reusable, so it's easy to keep a stack of them handy whenever it's time for a new diaper.  -  $11.00
Kids say the funniest things, and when their child starts talking they'll be able to keep it all down on paper so they'll always have a record of it. This is perfect since most times what kids say gets lost over time as new memories are made.  -  $13.00
Here's a keepsake that they'll be able to treasure for many years, recording all of the things that baby does. It's the sort of book that all parents wish they had of their child, often when it's too late to start one.  -  $70.00
Parents can take a guided tour of letter writing to their baby so later in life they'll be able to read and enjoy stories of when they were a baby. It's a way of making sure they knew what you were thinking back then when they reflect on their upbringing.  -  $40.00
Keep memories of baby safe and secure with this baby memory book. It makes scrapbooking baby's story paint by numbers easy and there's guidance so that new parents don't forget to document the most important milestones.  -  $56.00
 Prince Lionheart Premium Wipe Warmer
Baby will let mom know right away that cold wipes are no fun, mom, no fun at all. A strategically placed wiper warmer on top of the changing station will make the diaper changes go that much easier. A nice warm wipe is soothing for the little one—you'll probably get one for yourself after you think about it. - $30.92
 Dr. Brown's Natural Flow Newborn Feeding Set
If she's not breast-feeding all the time, a crucial gift for the new mom is a set of bottles. They need to be ready at home ahead of time—so do the thinking for her and get her a complete set of bottles for her newborn. These are non-toxic and one hundred percent newborn safe.  -  Prices Vary
 Munchkin High-Speed Bottle Warmer
Babies like that milk nice and warm, just like when it comes right from the source: the mama. A special bottle warmer takes the guesswork out of heating either pumped milk or formula. New moms can check one more thing off their worry list with one of these.  -  $18.88
 Earth's Best Organic Infant Formula
Crunchy granola moms can rejoice, and get their babies on the right track from the very beginning. This formula is a great gift for a new mom who's not going to breastfeed and doesn't want a laboratory made off-the-shelf formula. It's USDA organic, kosher, and free of steroids and antibiotics.  -  $23.99
 BOB Revolution Single Stroller
Get outta the house! The HUMVEE of jogging baby strollers is here. New moms can keep baby safe and get back on the road with this jogging stroller. Going for a run—or even a brisk walk—is much easier when a new mom has a stroller like this.  -  Prices Vary
 Summer Infant Warming Waterfall Bath Tub
Washing babies in the kitchen sink is cute and fun the first couple of times. But what happens when that sink is full of dishes because everyone has been spending their time taking care of the little love bundle? That's when you need a special tub like this one—which has a cool circulation feature mom will love.  -  $39.92
Many times baby's skin is very sensitive, and they can have an allergic or otherwise adverse reaction to detergents. This organic laundry detergent uses soap nuts as its only ingredient, and they're reusable so one box should last new parents a long time.  -  $12.00
Help them keep their kitchen area sanitized with this UV sanitizing wand. It gets rid of germs without the need for harsh chemicals. It can help keep baby from getting sick and is an extra step of precaution when getting their bottle or food ready.  -  $100
These knee pads are designed to keep them crawling without anything happening to their knees. When kids learn to crawl their knees always seem to take a beating, and with these knee pads, they can explore more without getting hurt.  -  $22.00
Help them learn all they need to know about their new baby with this owner's manual. It's been said that baby's don't come with instruction books, and this is a guide that tries to remedy that mistake. This is especially important for first-time parents. - $12.00
Give them a bit of fun at the table with this food face plate. It lets them move their food around the face to make it look funny and to use the food as facial accessories like a mustache or hair. - $12.00
Give baby a relaxing experience and help them drift off to the Land of Nod with this sound and light projector. It not only gives them something to listen to but something to watch as well, projecting images on the ceiling for baby to see. - $30.00
Turn just about any adult-sized chair into a baby-sized chair with this portachair. This is one gift that will prove to be invaluable to new parents because there always seems to be a need to set baby down and no good place to do so. - $50.00
Times have changed and technology has improved so much that it's now possible to keep an eye on baby even when they're in the other room. This monitor broadcasts both audio and video so you'll know if baby is up or not. - $200.00
This sleepy time hat is perfect for when baby wants to take a nap but it's just too bright during the middle of the day. It's made of organic materials and has two sleepy eyelids on it so it's super cute and totally useful. - $18.00
(Related: 50 Brilliant Baby Gift Baskets for New Parents)
12 DIY Gifts for New Parents
At-Home Date Night Gift Basket
Give new parents what they really need, a date night! This kit makes sure that you won't have to babysit for their date night because they get it have an at-home date. It helps them out with dinner and helps them be romantic for a nice night in.
This lap tray is just as functional as the ones you can buy, but you can do it yourself and still have a nice gift to give new moms and dads. Traveling with baby will be a lot easier when they have this tray for food or toys.
When the binky hits the ground it needs to be washed, but you can save it from hitting the ground with this pacifier clip. If it pops out, and it will, you just pop it back in because the clip keeps it from going anywhere.
Make sure baby is snug all over with this hooded car seat blanket. Most car seat blankets are just blankets, but this one is specifically designed to cradle all of baby with a hood on the top. They'll love that you made a homemade gift for them.
Babies tend to spit up when they're being burped, so you can give new parents this homemade burp cloth that has their baby's name on it. It comes with a nautical theme, but you can use these same instructions and make your own design.
Help mom and dad keep track of the little one's growing time with this handcrafted growth chart. It's a little more sophisticated than writing on the wall with a Sharpie. It is also something that can be stored and saved for later.
This mobile features a group of cute owls and goes well in many different styles of baby's rooms. You may want to check what their theme is going to be before making these for them, and see if owls will work with the other decorations.
They'll show you how to make a useful baby wrap without having to sew anything. A baby wrap can be a real lifesaver, and when you have this guide you'll be able to use your choice of fabric so it's highly customized.
Help keep baby safe by using this crib rail guard that is made for teething babies. Crib rails are the perfect height for baby to stand up and chomp on, so it's good to have this in place before they do because it can be a bit painful to bite a crib rail.
Help keep does quiet with this handmade door muffler. It goes where the door latch is so that the door doesn't latch and made noise. It's perfect for sneaking in undetected to check in on baby, or to leave the room without waking them up.
Every mom and dad needs a good set of toys to keep baby busy, and these blocks feature different skies on them, so you're able to put them together like a puzzle and come up with sunshine, stars, and more.
This onesie reads "I'm cute. Mom is cute. Dad is lucky.". It could be a tongue-in-cheek reference to the fact that the baby got all of mom's cute genes, or it could just mean that dad is lucky to have a cute wife and baby.